Church and Faith
As a Church of England School, faith is a core value.
Our vision, ethos, curriculum and relationships with each other are all underpinned by our faith in God and his love for us all. Although we are a Christian school, our children follow many faiths (and none) and we respect everyone's beliefs.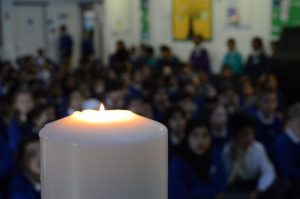 These are some key distinctive aspects of our school:
We celebrate each-other's festivals.
We worship together in school and in church, and we study the world's religions so that we can learn about what unites us.
We have close links with the parish of Horton All Saints, and representatives of the parish sit on our governing body.
We also work closely with the Anglican Diocese of Leeds, getting advice and support in our work as a Church of England school
We support and work closely with other Church of England schools in Bradford
We regularly visit and worship in All Saints Church and we visit other places of worship in Bradford; one of the most diverse cities in the country.
We start our week off with collective worship – a special time when staff and children contribute in different ways.
In every classroom you will find a reflection space, where we can worship and reflect alone or as a whole class.
We expect everyone to respect each other, regardless of faith.
Collective Worship and Reflection
Collective worship is a daily element of life at All Saints.
Assemblies
Children and staff take the opportunity to reflect, share and respond to key themes. SLT lead two sessions per week in the main halls. We have made the decision to split the year groups in order to create a more intimate atmosphere and really ensure the themes are age relevant.
Children are key to these sessions. They contribute their ideas and then privately express their own thoughts on the themes within the central Reflection Space. Here children meet to discuss the ideas and they are able to write their ideas on labels provided. Children will often read each other's ideas, prompting further discussions.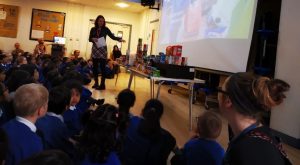 Our year 6 leaders (head girl/boys, ambassadors & peer mentors) take turns to be present in the Reflection Space, during unstructured times, to provide friendship, support and guidance to other children.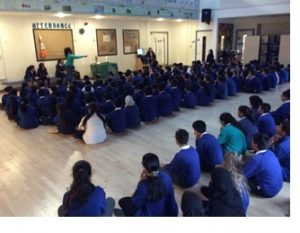 We have key assemblies all together; although it is quite a feat to get all our pupils and staff into one space we feel it is crucial to the unity of the school. These sessions always include a key theme, sometimes led by pupils and/or SLT, celebration music and an opportunity to share the achievements of all.
Pupils are also encouraged to take the lead with whole school collective worship. They plan on an agreed theme and then lead with a member of SLT providing background support.
REMEMBRANCE DAY
Remembrance Day and the key ideas associated with is are always carefully thought out.
Previously, we took part in the BBC's Live Lesson, following a collective worship held in our Reflection space.
Our local Curate led the prayers, making this a very moving and memorable occasion for staff and children. Annually, we come together as a school to remember and learn about Remembrance as a collective.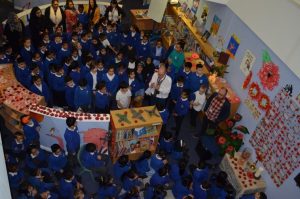 LITURGICAL CALENDAR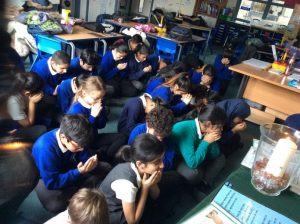 Every classroom has a pack of cloths, representing the colours from the liturgical calendar. Staff have received training on how the cloths should be represented, and we feel it is a great way to introduce the Christian calendar in a practical and visual way. The cloths are a starting point for each class's personal reflection space. We have also introduced a candle which is lit daily.
Again this provides a very clear indication to the whole class that lessons have ended and it is time for reflection. The time is used for children to reflect on the day, ask questions and discuss world issues in a positive, safe way. The sessions are ended with prayers, usually written by the children themselves.
Pupils also demonstrate their understanding of a shared Collective Worship, through pieces of work completed in class. Below is an example of the poem, In Flanders' Fields which was read out by a pupil in our Remembrance Day collective worship. The pupils then composed their own poems based on the same theme.
Collective Worship and Reflection at All Saints CE Primary School